Departing From and Returning to Campus
Current information for Seventh College residents in regards to departing from and returning to the UC San Diego campus.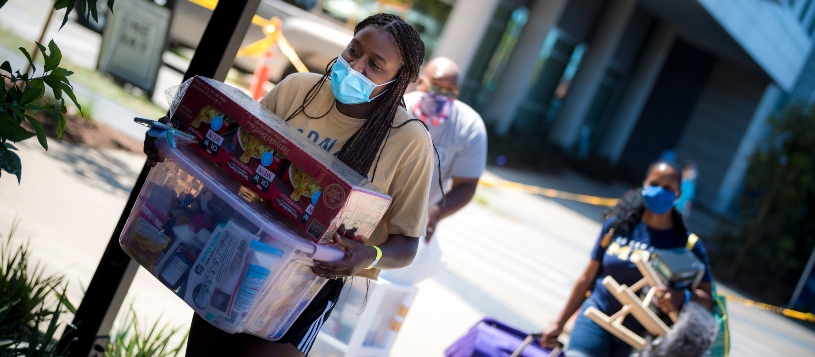 Residents Departing From Campus
 Residents moving off campus for an indefinite period must update their reported addresses and contact information on

TritonLink. 



Optional Step: To opt-out of daily reminders from the

Daily Symptom and Exposure Screening, select "Register for Screener" and "No" to opt-out of future messages.  (Note: Daily Symptom and Exposure Daily Checker is separate from the asymptomatic testing reminders.)
  
Residents Returning to Campus
Residents who are returning to the UC San Diego campus are required to complete the following steps:
 Continue practicing  UC San Diego and County public health and safety guidelines. Residents returning to campus are ineligible to participate in Phase II* until they complete the following sequestration protocol:



Undergo COVID-19 testing within 24 hours upon arrival on to campus and on Day 5 after returning. 


Wear masks and physically distance within apartments, with the exceptions of personal bedrooms and showers.


If your apartment is in Phase II, you may only participate once your Day 5 COVID-19 test returns as negative.

*In Phase II, residents are no longer required to wear a mask or maintain strict social distancing within their personal residential suite/apartment as long as they have not engaged in any off-campus unmasked activity.



Re-register for

Daily Symptom and Exposure Screening daily 

reminders if you chose to opt-out. 
Residents are NOT allowed to have any visitors, including between suites/apartments. All residents must continue to mask, socially distance, and complete the daily symptom screening.

Residents who engage in maskless activities or leave campus for more than 18 hours are required to restart at Phase I, and must complete Self-Administered COVID-19 testing using the Testing Kit Vending Machine located in Seventh College's Residence Life Office (Seventh West, Building 2 - Second Floor) on Day 1 and Day 5.
v.2021.12.01